Top Finance and Hip-Hop News – 8.24.20
| | | | |
| --- | --- | --- | --- |
| | NASDAQ | 11,311.80 | + 26.07% |
| | | | |
| --- | --- | --- | --- |
| | S&P | 3,397.16 | + 5.15% |
| | | | |
| --- | --- | --- | --- |
| | DJIA | 27,930.33 | – 2.13% |
| | | | |
| --- | --- | --- | --- |
| | GOLD | 1,947.40 | + 28.12% |
| | | | |
| --- | --- | --- | --- |
| | 10-YR | 0.636% | – 128.40 bps |
| | | | |
| --- | --- | --- | --- |
| | OIL | 42.25 | – 30.98% |
*As of market close
Markets: Many thought the stock market would reverse its epic climb without a fresh stimulus package from Congress. That emergency relief seems as far away as ever, yet the S&P still hit a record last week.
More markets: Short positions in U.S. stocks (when an investor bets that a stock's price will fall) have reached their lowest level in more than a decade, the FT reports.
And by party we mean legal action. Over the weekend, Chinese-owned social media giant TikTok confirmed reports that it'll sue the U.S. government today.
The backstory: On Aug. 6, as we all collectively wondered how it was August already, President Trump signed an executive order blocking all U.S. transactions with TikTok owner ByteDance in 45 days. The U.S. government has deemed TikTok a national security threat because of a Chinese law that could compel it to fork over Americans' personal data to Beijing.
As we shifted into "wait, does this mean September is next?" mode on Aug. 14, Trump stepped on the gas pedal, inking another order that gave ByteDance 90 days to divest all U.S. TikTok operations.
Now TikTok is mounting a defense, saying the president's executive order denied its right to due process. It has repeatedly denied it could be strong-armed by the Chinese government.
But ByteDance still has to drop TikTok in the U.S.
And the horserace to buy it is very much still on.
Where it stands: Early leader Microsoft is still "the favorite" at 2–1 odds, says Axios's Dan Primack, who handicapped the race last Friday. Microsoft broke from the gate first, negotiating with the White House weeks before any of us were the wiser. Plus, it has a war chest worthy of Secretariat.
But Oracle (5–2 odds), another enterprise tech company, is only about a length behind. It helps that some execs are buddies with Trump.
Twitter (20–1) is in the mix as well, but it's more like a colt rounding the far turn as the other two thunder toward the finish line. It would need a financial sponsor, and while being Trump's favorite platform, it isn't his favorite company.
Looking ahead…we've got 22 days left on the clock. President Trump has said he'd be okay with a sale to either Microsoft or Oracle.
If the national presidential conventions were the Super Bowl, J.Lo would have just left the halftime stage and the Republicans would be receiving the second-half kickoff.
Tonight, they'll begin their own convention and make the case that President Trump deserves a second term.
The Democrats held their own convention last week, all-virtual and generally without production hiccups.
The Republicans had initially intended to host theirs in Charlotte, NC…then Jacksonville, FL…but the coronavirus made large in-person events untenable.
What the GOP is planning: President Trump told Fox News on Thursday that "we're going to have more of it live than what they did," though we don't know specifics. We do know that two former producers of the show The Apprentice (starring Trump) are involved in the planning, according to the NYT.
In terms of economic themes, the convention is expected to highlight President Trump's actions on trade, deregulation, and emergency aid during the pandemic.
Previews: The AP has a good one, and here's the entire speaker list.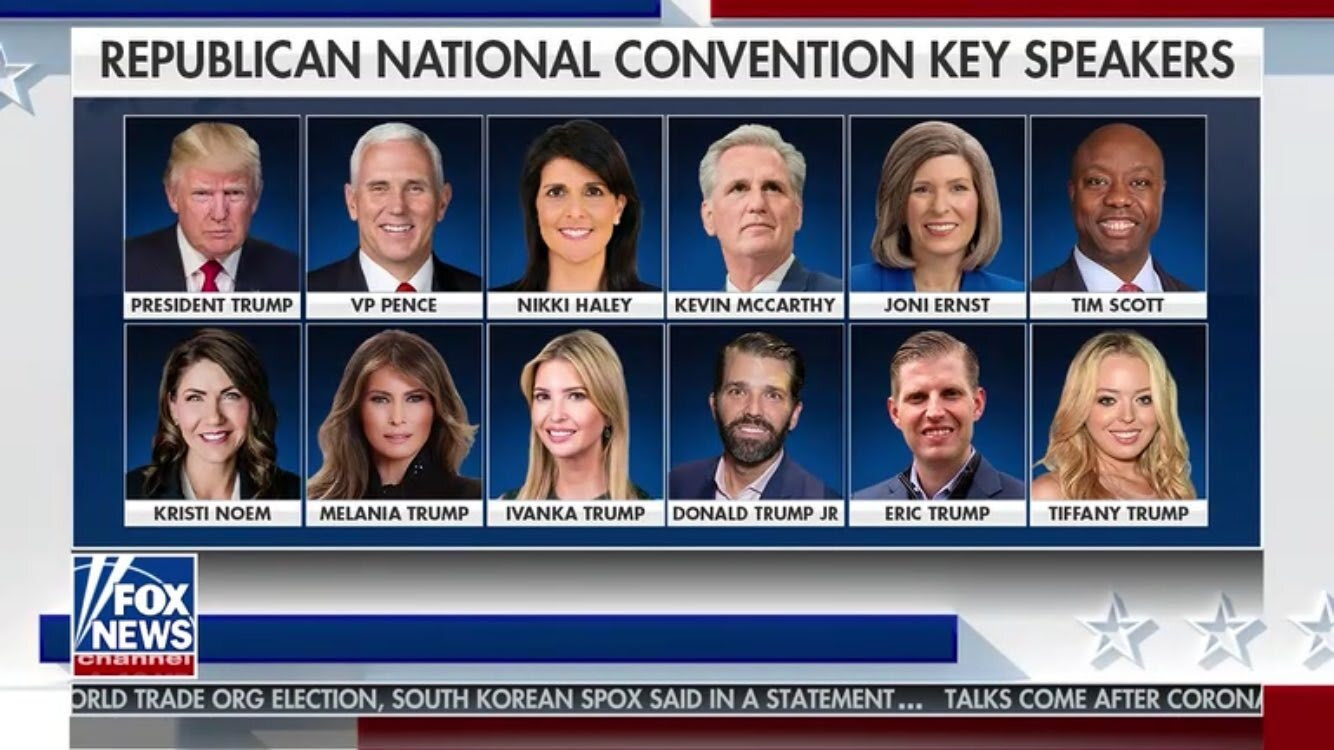 Dow futures jump 250 points as market looks to extend record-setting rally, Apple shares gain
https://www.cnbc.com/2020/08/23/stock-market-futures-open-to-close-news.html
Stock futures rallied in early trading on Monday as Wall Street tries to build on a record-setting week. Gains in tech shares and some developments on coronavirus treatments were behind the bullish sentiment.
Futures on the Dow Jones Industrial Average rose 270 points, or about 1%. The move indicated an opening gain of more about 260 points. S&P 500 futures added 0.8%. Nasdaq-100 futures gained 0.9%.
Apple shares rose 2% in premarket trading. Amazon and Microsoft shares were also higher.
On Sunday, the U.S. Food and Drug Administration issued an emergency use authorization of convalescent plasma for hospitalized Covid-19 patients, a treatment that uses blood plasma donated by people who've recovered from the virus.
President Donald Trump said at a news conference Sunday that the plasma treatment cuts the mortality rate by 35%.
The Trump administration is also considering fast-tracking an experimental coronavirus vaccine developed in the U.K. for use in the United States ahead of the nation's upcoming presidential election, according to a Financial Times report.
Shares of casinos and airlines gained in premarket trading amid the coronavirus treatment developments.
A seemingly unstoppable rally in major technology shares last week pushed the S&P 500 to levels above its previous record set before the pandemic. The broad equity benchmark posted its fourth straight positive week and closed at a fresh record on Friday.
Apple jumped more than 8% last week ahead of its 4-for-1 stock split, bringing its 2020 gains to nearly 70%. Those gains were continuing in premarket trading.
The tech-heavy Nasdaq Composite gained 2.6% last week, posting a six-week winning streak and notching its 36th intraday high. The Nasdaq has gained 26% this year.
The 30-stock Dow, however, is still about 5% below its record high from February as many of its consumer discretionary and industrial constituents have yet to fully recover from the unprecedented sell-off earlier this year.
Investors remained on high alert for updates on the coronavirus pandemic as the world attempts to ease restrictions and revive economic growth.
Wisconsin police shoot Black man as children watch from a car, attorney says
https://www.cnn.com/2020/08/24/us/kenosha-police-shooting-jacob-blake/index.html
A man is fighting for his life after he was shot by an officer with the Kenosha Police Department in Wisconsin Sunday afternoon.
A graphic video purported to be of the shooting and posted on Facebook, shows at least two police officers following the man with guns drawn as he walks from the passenger side of a gray vehicle to the driver's side. When the man opens the door of the vehicle and tries to get in, one of the officers is seen grabbing him by the T-shirt. The officer points his gun at the man as he holds on to the man's T-shirt. At least seven gunshots are heard, and the man appears to go limp in the vehicle, the car horn blaring.
Police said they were called to the address to deal with a domestic disturbance, but it is unclear who called or what happened before the video recording began.
Wisconsin Gov. Tony Evers identified the victim as Jacob Blake in a statement released shortly after the incident occurred. Evers said Blake was critically injured when he was shot multiple times.
"Tonight, Jacob Blake was shot in the back multiple times, in broad daylight, in Kenosha, Wisconsin. Kathy and I join his family, friends, and neighbors in hoping earnestly that he will not succumb to his injuries. While we do not have all of the details yet, what we know for certain is that he is not the first Black man or person to have been shot or injured or mercilessly killed at the hands of individuals in law enforcement in our state or our country," Evers said in his statement.
In a statement, the Kenosha Police Department said an officer involved shooting happened when they were responding to a domestic incident in the 2800 block of 40th Street at 5:11 p.m.
According to police, officers immediately began to render aid and the person was transported via Flight for Life to Froedtert Hospital, Milwaukee, in serious condition.
After the shooting, the Kenosha Police requested the Kenosha Sheriff's Department and Wisconsin State Patrol so that the scene could be turned over to an agency other than Kenosha Police, the statement said. The Wisconsin Department of Justice's Division of Criminal Investigation will investigate this shooting.
Attorney Benjamin Crump told CNN that Blake's family reached out to him for assistance. Crump said Blake's three young sons were in the car when he was shot.
"They saw a cop shoot their father. They will be traumatized forever. We cannot let officers violate their duty to PROTECT us. Our kids deserve better!!" Crump said in a post on Twitter.
After the shooting, the Kenosha County declared a countywide state of emergency curfew that is being enforced by the Kenosha Sheriff's Department from 10:15 p.m. Sunday until 7 a.m. Monday.
Roger Goodell: 'Wish we had listened earlier' to what Colin Kaepernick was protesting
https://www.espn.com/nfl/story/_/id/29727180/wished-listened-earlier-colin-kaepernick-was-protesting
NFL commissioner Roger Goodell said that he wishes "we had listened earlier" to what Colin Kaepernick was trying to bring attention to when he began kneeling for the national anthem in 2016.
Goodell was asked on former NFL linebacker Emmanuel Acho's video series, "Uncomfortable Conversations with a Black Man," what he would say in a public apology to Kaepernick.
Goodell responded by expressing remorse about the lack of dialogue with the former San Francisco 49ers quarterback, saying that the league would have benefited from a conversation with Kaepernick.
"We had invited him in several times to have the conversation, to have the dialogue," Goodell said in the video posted Sunday. "I wish we had the benefit of that. We never did. And we would've benefited from that, absolutely."
Goodell also said that players kneeling is "not about the flag" and that their intentions are being "mischaracterized."
"These are not people who are unpatriotic. They're not disloyal. They're not against our military," Goodell said. "In fact, many of those guys were in the military, and they're a military family. And what they were trying to do is exercise their right to bring attention to something that needs to get fixed. And that misrepresentation of who they were and what they were doing was the thing that really gnawed at me."
In June, Goodell and the NFL released a video apologizing on behalf of the league for not doing a better job of listening to players' concerns about racial inequality. Goodell told Acho that he had hopes the death of George Floyd while in Minneapolis police custody in May made people realize what players were protesting and that he regrets that the league did not do a better job of supporting those protests.
"… That's where we should have listened sooner," Goodell said. "And that's where we should have been in there with them, understanding and figuring out what we can do as the NFL."
In an interview with Mike Greenberg for ESPN's The Return of Sports special in June, Goodell said he supports and encourages teams to sign Kaepernick. The 32-year-old has not played since the 2016 season, when as a member of the 49ers, he kneeled during the national anthem to protest racial inequality and police brutality.
LONGTIME HOT 97 EXECUTIVE PADDY DUKE FIRED FOR INVOLVEMENT IN YUSEF HAWKINS MURDER
https://hiphopdx.com/news/id.57484/title.longtime-hot-97-executive-paddy-duke-fired-for-involvement-in-yusef-hawkins-murder
The consequences from HBO's Storm Over Brooklyn documentary highlighting the 1989 murder of Yusef Hawkins have crept their way into New York radio station Hot 97.
On Sunday (August 23), the 31st anniversary of Hawkins' murder, the station announced in a statement they'd fired longtime executive Paddy Duke for his involvement in his death.
"After watching HBO's Storm over Brooklyn, HOT97 was shocked and took swift action," the statement read. "Paddy Duke is no longer employed by HOT97. The march for social justice continues."
Duke, real name Pasquale Raucci, was among a mob of White men who crowded Hawkins and three other Black teens and attacked them in Bensonhurst, a predominantly Italian-American section of Brooklyn. The mob thought they were part of a different group of Black teens headed to a party at the home of a local girl the mob believed had begun dating a Black man.
The 16-year-old Hawkins was considered a leader amongst his peers and had dreams of possibly becoming an engineer. In the Storm Over Brooklyn documentary, friend Christopher Graham remembered Hawkins fondly as someone who was hard to guard on the basketball court considering he was left-handed.
Hawkins and company were in Bensonhurst inquiring about a used 1982 Pontiac advertised in the newspaper for $900. Soon, Hawkins and his three associates were being followed by a group of 10 White men that soon swelled to 30 men. Some held bats and begun yelling racial slurs at the group, "Let's club the n*ggers!"
Soon, gunshots rang out. Hawkins was shot twice in the chest and later died at the hospital. Five members of the mob were arrested in connection with Hawkins' murder, including Duke. Although he was found not guilty of manslaughter or second-degree murder, Duke was convicted on eight lesser counts and sentenced to three years probation and a $200 fine.
Duke's ousting from the station has raised questions concerning the station's hiring of Duke as well as whether knowledge of his prior crimes had been known by execs who'd given him a job. According to his LinkedIn profile, he'd served as the producer of Angie Martinez's show and was an on-air DJ at the station from 1994 until 2003 before he became the commercial production director.
Top Finance and Hip-Hop News – 9.16.20
| | | | |
| --- | --- | --- | --- |
| | NASDAQ | 11,190.32 | + 1.21% |
| | | | |
| --- | --- | --- | --- |
| | S&P | 3,401.13 | + 0.52% |
| | | | |
| --- | --- | --- | --- |
| | DJIA | 27,994.42 | UNCH |
| | | | |
| --- | --- | --- | --- |
| | GOLD | 1,961.30 | – 0.12% |
| | | | |
| --- | --- | --- | --- |
| | 10-YR | 0.675% | – 0.40 bps |
| | | | |
| --- | --- | --- | --- |
| | OIL | 38.25 | + 2.66% |
*As of market close
Nation: Louisville will pay a $12 million settlement to the family of Breonna Taylor, who was killed by police in a botched raid earlier this year.
Economy: Fed Chair Jerome Powell isn't expected to announce any change in interest rates today, but his presser this afternoon will still be a must-watch. It's the first time the central bank has met under the new inflation framework it announced last month.
Breonna Taylor settlement is among largest payouts linked to a police shooting
https://www.cnn.com/2020/09/16/us/police-shooting-lawsuits-breonna-taylor-settlement/index.html
The $12 million settlement with Breonna Taylor's family is a historic move for Louisville, Kentucky, but across America it's the latest financial repercussion in a police misconduct case.
More than six months after Taylor was killed inside her apartment as police officers executed a "no-knock" search warrant, the city is poised to pay its highest-ever settlement, a city spokeswoman told CNN.
The city previously paid $8.5 million for the wrongful conviction of Edwin Chandler, who served nine years in prison for a 1993 murder before he was exonerated, CNN affiliate WLKY reported.
Cities across the country have previously reached monetary agreements following high-profile police shootings. Cleveland agreed to pay $6 million to the family of Tamir Rice and New York City agreed to pay Eric Garner's family $5.9 million.
Civil rights attorney Ben Crump, who has represented the families of several police brutality victims — including George Floyd and Jacob Blake — said he believes Taylor's settlement is one of the largest amounts ever paid out for a Black woman killed by police in the US.
While it's unclear where the payout to Taylor's family stands among all police misconduct lawsuits in the nation, here are other large payments that stemmed from police shootings in recent years:
Netflix Orders 10 Episodes of Animated 'Good Times' Series Co-Produced By Steph Curry
https://www.blacknews.com/news/netflix-orders-10-episodes-good-times-animated-series-steph-curry/
Netflix has given a 10-episode, straight-to-series order to a new animated take on Norman Lear's classic sitcom "Good Times." Carl Jones, whose credits include animated series "The Boondocks" and "Black Dynamite," as well as TBS' Tracy Morgan star "The Last O.G.," will create, showrun and executive produce the project.
The new animated series will follow "the Evans family as they navigate today's world and contemporary social issues. Just as the original did years ago, 'Good Times' strives to remind us that with the love of our family, we can keep our heads above water.
Lear and his Act III Productions company are partnering with basketball star Steph Curry and his production company, Unanimous Media, as well as Seth MacFarlane and his shingle Fuzzy Door, to develop the show.
The original "Good Times" aired for six seasons on CBS, from 1974 to 1979, and was created by Eric Monte and Mike Evans, and developed by Lear. It was a spin-off of "Maude," which in turn was a spin-off of Lear and Bud Yorkin's "All in the Family."
LIL NAS X TAKING HIS 'OLD TOWN ROAD' ACT TO CHILDREN'S BOOKS
https://hiphopdx.com/news/id.57909/title.lil-nas-x-taking-his-old-town-road-act-to-childrens-books
Lil Nas X can now call himself an author. The "Old Town Road" hitmaker has penned a children's book titled C Is For Country, which is scheduled to be released in January 2021.
"I'm dropping the best kids book of all time soon!" he wrote on Instagram. "C IS FOR COUNTRY, out January 5, 2021 from @randomhousekids. I can't wait to share it with you all. You can pre-order it right now at the link in my bio."
C Is For Country is being published by Random House Kids, a division of the Penguin Random House company. Artist Theodore Taylor III is handling the book's illustrations.
According to Random House, the book tells the story of "Panini the pony on a joyous journey through the alphabet from sunup to sundown." The main character gets its name from Lil Nas X's second multi-platinum selling hit.
C Is For Country is recommended for children ages 3-7 and can be pre-ordered here. The initial release includes hardcover copies, e-books and audiobook downloads.
Top Finance & Hip-Hop News – 9.10.20
| | | | |
| --- | --- | --- | --- |
| | NASDAQ | 11,141.56 | + 2.71% |
| | | | |
| --- | --- | --- | --- |
| | S&P | 3,399.06 | + 2.02% |
| | | | |
| --- | --- | --- | --- |
| | DJIA | 27,940.67 | + 1.60% |
| | | | |
| --- | --- | --- | --- |
| | GOLD | 1,957.10 | + 0.72% |
| | | | |
| --- | --- | --- | --- |
| | 10-YR | 0.697% | + 1.90 bps |
| | | | |
| --- | --- | --- | --- |
| | OIL | 38.02 | + 3.43% |
*As of market close
Markets: Stocks had a big bounce-back day after a few steep sell-offs.
Jobs: U.S. employers posted 6.6 million job openings in July, more than the 6 million in June but less than the 7.2 million a year ago. The numbers continue to reflect a grind-it-out recovery for the job market.
Trump told Bob Woodward he knew in February that COVID-19 was 'deadly stuff' but wanted to 'play it down'
https://www.nbcnews.com/politics/donald-trump/trump-told-bob-woodward-he-knew-february-covid-19-was-n1239658
President Donald Trump acknowledged the dangers of the coronavirus pandemic in a February interview with journalist Bob Woodward and acknowledged downplaying the threat in an interview a month later, according to an account of Woodward's new book.
"I wanted to always play it down. I still like playing it down because I don't want to create a panic," Trump said in a March 19 call with Woodward, according to an audio clip posted Wednesday on The Washington Post's website. The newspaper obtained a copy of the book, "Rage," which is scheduled to be released next week.
In the same interview, Trump acknowledged that the disease was more deadly than he previously thought.
"Now it's turning out it's not just old people, Bob. But just today, and yesterday, some startling facts came out. It's not just old, older," Trump said, according to an audio clip, and then added, "young people, too, plenty of young people."
Trump is locked in a difficult re-election battle against Democratic nominee Joe Biden, with his poll numbers sagging as he continues to get low marks from voters for how he handled the response to the virus.
Trump, speaking to reporters Wednesday afternoon, said he'd been trying to avoid "panic" and was showing "leadership."
"We have to show calm," he said. "Certainly I'm not going to drive this country or the world into a frenzy. We want to show confidence. We have to show strength."
He sidestepped a question about whether lives could have been saved if he had been more forthright about the dangers posed by the virus.
"I think if we didn't do what we did, we'd have had millions die," Trump said.
Of his approach, Trump said, "We don't want to go around screaming, 'Look at this, look at this.'"
Biden noted Wednesday that over 190,000 Americans have died from the coronavirus and called Trump's words "beyond despicable."
"It was a life-and-death betrayal of the American people," Biden said.
Woodward's book is based on 18 on-the-record phone calls he had with Trump from December to July. Woodward, a highly respected veteran journalist who is an associate editor of The Post, also attributes details about the internal workings of the White House to a series of interviews with unnamed aides.
Woodward details that Trump was briefed on the virus in January.
"This is deadly stuff," Trump told Woodward in a Feb. 7 phone call.
"You just breathe the air and that's how it's passed," Trump told Woodward, according to The Post. "And so that's a very tricky one. That's a very delicate one. It's also more deadly than even your strenuous flu."
The book says Trump was given dire warnings in January about the virus that would lead to a worldwide pandemic in March.
"This will be the biggest national security threat you face in your presidency," national security adviser Robert O'Brien told Trump on Jan. 28, according to the book. "This is going to be the roughest thing you face."
Trump blocked some Chinese nationals from coming into the country in the days after the briefing, but he continued to play down the danger posed by the virus and repeatedly compared it to the flu.
"We only have five people. Hopefully, everything's going to be great," Trump said Jan. 30. A few days later, he said, "We pretty much shut it down coming in from China."
Despite the early warning about the virus's deadliness and its ability to be transmitted through the air, Trump continued to hold packed political rallies throughout February and told reporters at the White House on Feb. 27: "This is a flu. This is like a flu."
On March 9, weeks after he told Woodward that the coronavirus was more than five times deadlier than the flu, Trump tweeted: "So last year 37,000 Americans died from the common Flu. It averages between 27,000 and 70,000 per year. Nothing is shut down, life & the economy go on. At this moment there are 546 confirmed cases of CoronaVirus, with 22 deaths. Think about that!"
House Speaker Nancy Pelosi, D-Calf., slammed the president Wednesday in an interview on MSNBC, saying his "downplaying" cost lives.
The "denial about the threat is responsible for many of the deaths and infections that we have today, not all of them, but many of them, could have been prevented," Pelosi told Andrea Mitchell.
The book also sheds further light on how much distrust some of Trump's top officials had in the president.
Woodward recounted a conversation — which he attributed to unnamed sources — between Dan Coats, then the director of national intelligence, and James Mattis, who was the defense secretary at the time, in which Mattis told Coats, "The president has no moral compass."
Coats agreed, according to the book.
"To him, a lie is not a lie. It's just what he thinks. He doesn't know the difference between the truth and a lie," Coats is quoted by Woodward as saying.
According to the book, Trump — who came under fire last week for having reportedly referred to dead U.S. service members as "losers" and "suckers" — had little regard for his own generals.
In a conversation with trade adviser Peter Navarro, Trump complained: "My fucking generals are a bunch of pussies. They care more about their alliances than they do about trade deals." The sources for that account were not named.
Navarro told reporters later Wednesday that Woodward had put "words in my mouth" that he had never said for his last book. "I don't believe a word of what Bob Woodward says," Navarro added.
Woodward also drew some criticism on social media, as well, where some complained that he should have spoken up about Trump's comments much earlier. Woodward told The Associated Press that he was initially skeptical that Trump wasn't being truthful.
CHARLAMAGNE THA GOD LAUNCHES BLACK EFFECT PODCAST NETWORK WITH IHEARTMEDIA
https://hiphopdx.com/news/id.57794/title.charlamagne-tha-god-launches-black-effect-podcast-network-with-iheartmedia
Charlamagne Tha God is hoping he has the next media empire on his hands. On Wednesday (September 9), the brash radio personality in partnership with iHeartMedia announced the launch of the Black Effect Podcast Network. The groundbreaking media network is slated to host 18 podcasts starting this fall.
The replay of his nationally-syndicated radio morning show The Breakfast Club will find a new home with the Black Effect Podcast Network. Charlamagne looks to "amplify, elevate, and empower" Black voices in the community he believes deserve to be heard on a larger scale and put in positions to succeed.
Talent joining the first Black-curated podcast network includes TV host Eboni Williams, activist Tamika Mallory and actress Jess Hilarious. There are also established podcasts already onboard such as former NBA players Matt Barnes and Stephen Jackson's All The Smoke, N.O.R.E.'s Drink Champs, and The 85 South Show with DC Young Fly.
"Blackness has an immediate, culture-shifting effect on everything," Charlamagne Tha God revealed in a statement. "Blackness controls the cool. Blackness is the culture, but Black Voices are not monolithic. The only way to appreciate the diversity of thought and experiences in Black culture is to build a platform for those voices to be heard."
He continued, "Our goal is to shift the narrative from Black creators signing transactional deals, to instead forming legacy partnerships that build generational wealth while allowing each creative to have an equitable stake in their future. As a long-time partner of iHeart, it's an honor to make history with them."
CARDI B HIRED PRIVATE INVESTIGATOR TO ARREST TEEN 'TRUMP SUPPORTER' WHO LEAKED HER ADDRESS
https://hiphopdx.com/news/id.57805/title.cardi-b-hired-private-investigator-to-arrest-teen-trump-supporter-who-leaked-her-address
Cardi B often finds herself the target of Trump supporting trolls due to her outspoken stance on politics. Normally, the Bronx-bred firecracker is able to turn a blind eye but as she said in a recent Instagram Live post, she wasn't able to look past the person who shared her home address online.
"They be making fun of me," she said. "I ignore them. I don't give a fuck. Let me tell you something. Shit gets so intense that a Trump supporter posted my address and encouraged people to dox my home, to put my house on fire. I literally hired a private investigator and serve them with a warrant and arrest this boy. This boy was a fucking teenager. His parents were shook."
Earlier this week, Cardi got into it with conservative pundit Candace Owens who called the Grammy Award-winning rapper "dumb and illiterate." During the same IG Live stream, Cardi made it clear she wanted to use her massive platform to influence people to vote for Democratic nominee Joe Biden.
"It's not a secret I use my platform to encourage people to vote," she said. "I love politics… Today, Candace Owens said some real nasty things about me. Just like I can make millions of people pop their pussy… I can make millions of people go vote."
Owens accused Biden of pandering to the Black community after he sat down for an interview with Cardi, but she hit back and shared an Instagram photo on Monday (September 7) of what she believes pandering really looks like.
"This what PANDERING looks like," she wrote alongside a photo of Trump. "I will never praise no politician not even Obama, FDR or Bernie ONLY THE LORD !This is how Trump panders with black people while Candice concerns how Joe panders with me."
Cardi's interview with Biden  took place via Zoom last month. After sharing her views on topics such as healthcare, police brutality and college eduction, Biden praised the multi-platinum artist.
"One of the things that I admire about you is that you keep talking about what I call equity — just decency, fairness, treating people with respect," he told her. "John Lewis used to say the vote is the most powerful nonviolent tool you have. Use the power to change for the change you want.
"Thank you for your willingness to help. I'll make mistakes as president, but I'll admit to the mistakes I make, and you're never going to have to wonder whether I'll keep my word. Just check me out; I've never broken my word on anything I said I was going to do. Never in my life."
A new initiative launched yesterday to change the look of American boardrooms—specifically, to make them look less white.
The Board Challenge, a project of Altimeter Capital, Valence, and theBoardlist, is challenging U.S. firms to add a Black director to their boards within 12 months.
17 companies, including Zillow and Nextdoor, have taken the pledge.
Another 27 members with at least one Black board member (United Airlines, Nordstrom among them) are working with the project to advance diversity efforts.
Why it's an issue: 9% of Fortune 500 board members are Black men and women, while 66% are white men and 18% are white women, according to theBoardlist—and Black representation on boards hasn't budged in the last few years.
Some states, like California most recently, have introduced legislation that would require, not just "challenge," publicly held companies to appoint at least one director from an underrepresented community by the end of 2021.
Zoom out: It's notoriously difficult for newcomers to find a seat in the boardroom. 72% of directors have previous board experience and half are current or ex-CEOs, per Heidrick & Struggles.
Top Finance and Hip-Hop News – 9.9.20
| | | | |
| --- | --- | --- | --- |
| | NASDAQ | 10,853.55 | + 20.96% |
| | | | |
| --- | --- | --- | --- |
| | S&P | 3,340.97 | + 3.41% |
| | | | |
| --- | --- | --- | --- |
| | DJIA | 27,665.64 | – 3.06% |
| | | | |
| --- | --- | --- | --- |
| | GOLD | 1,948.10 | + 28.16% |
| | | | |
| --- | --- | --- | --- |
| | 10-YR | 0.671% | – 124.90 bps |
| | | | |
| --- | --- | --- | --- |
| | OIL | 37.39 | – 38.92% |
*As of market close
Economy: The U.S., England, and Japan will all announce interest rate decisions this week. Investors aren't expecting any major changes in their outlooks.
Nation: Historic wildfires have killed at least 33 people across California, Oregon, and Washington. Oregon Gov. Kate Brown blamed the fires on "decades of mismanagement" and climate change.
TikTok will partner with Oracle in the United States after Microsoft loses bid
https://www.cnn.com/2020/09/13/tech/microsoft-tiktok-bytedance/index.html
TikTok and Oracle will become business partners in the United States — a deal meant to satisfy the Trump administration's national security concerns, according to a person familiar with the matter.
Talk of a sale began as President Donald Trump issued executive orders last month seeking to ban TikTok and requiring that its US operations be spun off from its Beijing-based parent company, ByteDance.
The exact nature of the agreement between TikTok and Oracle (ORCL) remains unclear, but it was not described as an outright sale. The news about Oracle came just after Microsoft announced that it will not buy TikTok's US operations from ByteDance.
"We are confident our proposal would have been good for TikTok's users, while protecting national security interests," Microsoft (MSFT) said in a blog post Sunday. "To do this, we would have made significant changes to ensure the service met the highest standards for security, privacy, online safety, and combatting disinformation, and we made these principles clear in our August statement."
ByteDance has not responded to a request for comment. TikTok declined to comment.
Oracle did not respond to a request for comment.
Trump and other US politicians have said the app poses a threat to national security. TikTok has denied the allegation.
The agreement with Oracle comes days before a ban on TikTok in the United States was scheduled to go into effect. After September 20, the Commerce Department is expected to clarify which types of business dealings involving TikTok will be prohibited in the country, according to an executive order Trump signed August 6.
It's not clear whether TikTok's partnership with Oracle would allow the short-form video app to avert that ban. The scope and language of the order, along with Trump's own off-the-cuff remarks about TikTok, have led to confusion about how a ban would be implemented. In another executive order, Trump said TikTok had until November 12 to find a buyer.
Separately, a TikTok employee has challenged the looming ban in federal court and is seeking a judicial decision to suspend the August 6 executive order. A hearing to consider the plea is scheduled for Tuesday. TikTok has also sued the Trump administration over one of the orders, calling it "heavily politicized."
Multiple analysts had described Microsoft's pursuit of TikTok as a potential "coup" for the Washington state-based firm — an opportunity to scoop up one of the world's fastest growing social media platforms at a time when TikTok may be desperate to make a deal.
A deal could have also included an American retail giant: Walmart (WMT) was also participating in negotiations with Microsoft over a potential deal. The retailer had said it was interested in how TikTok could have bolstered its access to consumers.
Walmart on Sunday told CNN Business that it "continues to have an interest in a TikTok investment and continues discussions with ByteDance leadership and other interested parties."
"We know that any approved deal must satisfy all regulatory and national security concerns," the company said in a statement.
19 families buy nearly 97 acres of land in Georgia to create a city safe for Black people
https://www.cnn.com/2020/09/12/us/freedom-black-cooperative-toomsboro/index.html
"Welcome to Freedom!" exclaims real estate agent Ashley Scott as she surveys the nearly 97 acres of land that she and a group of 19 Black families purchased in August.
"I'm hoping that it will be a thriving safe haven for people of color, for Black families in particular," Scott says.
The land sits just East of Macon in rural Wilkinson County, Georgia. Scott and her friend, investor and entrepreneur Renee Walters, didn't initially plan on buying a large plot of land, but they had a vision that was clear — to create a safe space for their Black families.
"Being able to create a community that is thriving, that is safe, that has agriculture and commercial businesses that are supporting one another and that dollars circulating in our community, that is our vision."
Dave East Accuses Delta Of Hiring Racist Trump Supporters As Flight Attendants
https://allhiphop.com/news/dave-east-accuses-delta-of-hiring-racist-trump-supporters-as-flight-attendants-0S0Pn5zQuUu-3uSH17FPBQ
After being kicked off of a Delta flight, Harlem rapper Dave East is calling out the airlines for practicing bigoted behavior.
Dave took to his social media to post a video of the incident claiming that the crew racially profiled him. They didn't think that he belonged in first-class.
No details are shared but what is captured in his three-minute recording of the aftermath as a gang of police officers lined up outside of the plane door, in the corridor connecting the plane to the terminal, next to the very polite captain.
His team is seen trying to rationalize with what looks to be an attendant and other passengers even tried to defend Nas' protegé.
He wrote on his IG, "RACISM… @delta Fucc Delta! Racist Ain't Even The Word! This Jamaican Man Defending me and He dont even know me!!!! He watched the racist harassment!!!! Delta Airlines Y'all Need To Stop Hiring these racist, stupid, ignorant TRUMP supporters that get nervous when they see a PERSON OF COLOR in first class!!! B##ch just ask me what I want to drink and keep it pushing!!!! S##t got me Hot"
There is no word from Delta Airlines or Dave's camp about the resolve.